Today is going to be a big day for the people in the NPP government, as Ghana's most famous undercover journalist, Anas Aremeyaw Anas gave a tip of the iceberg of his yet-to-be-released Galamsay economy expose that will be released later that day.
According to Anas, Dr. Mahamadu Bawumia only required a token payment of USD200,000 as an appearance fee and a few positions by an investor for the Vice President's siblings to obtain his support and influence in starting a business in Ghana. This information was provided to Tiger Eye by Charles Adu Boahen, Minister of State in charge of Finance at the President's Office.
The vice president has come out to clear his name in the scandal, revealing that he has no knowledge of what is being said on Anas' Facebook page and that what he values most in life is integrity; however, he will not allow his name to be used in any corrupt act.
Taking to Facebook, the vice president wrote;
My attention has been drawn to a video by Anas Aremeyaw Anas (as posted on his social media handle) showing the Minister of State for Finance, Mr. Charles Adu Boahen, apparently using my name, inter alia, to peddle influence and collect money from supposed investors. I would like to state that if what the minister is alleged to have said is accurately captured in the video, then his position as a minister of state is untenable. He should be dismissed summarily and investigated.
I am not aware of any such meeting held by Minister Adu Boahen or a supposed "appearance fee". My most cherished asset in life is my integrity and I will not allow anyone to use my name to engage in corrupt activities.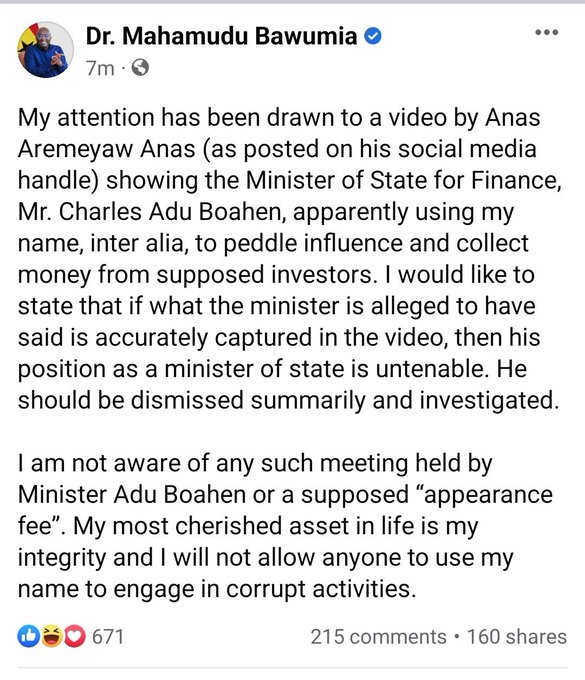 Source: Mintah.net
Donation for Author
Buy author a coffee